Have you heard of murumuru butter? What about coconut, cocoa, or shea butter? We believe that in a few years, this term will be equally widespread in everyday conversations about skin and hair care products. Murumuru butter is a potent natural ingredient that is increasingly being used in the cosmetic industry. Although you may not have heard of it before, we believe you will remember this ingredient well once you learn about all its benefits. Let's discover them below.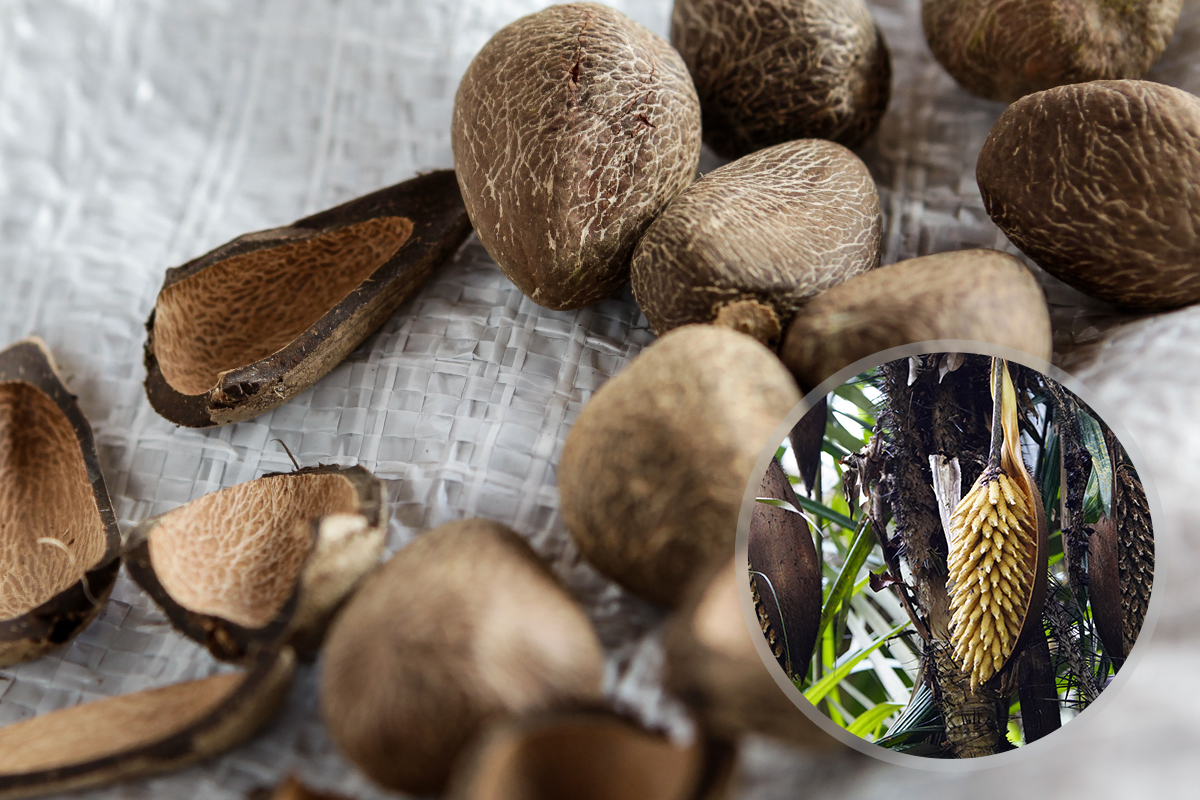 What Is Murumuru
Murumuru butter is derived from the seeds of the Murumuru tree (Astrocaryum Murumuru), a palm species that grows in the tropical forests of the Amazon in Brazil. The seeds of this palm have a very hard shell, and their core is extremely rich in nutrients – vitamins and healthy fatty acids. They are processed to obtain a buttery white or slightly yellowish mass with a mild, almost neutral scent.
This butter can be used in its raw state for intense hydration of the skin and hair. Also can be mixed with other ingredients to create different products. Since pure, unrefined murumuru butter is not cheap, it is most commonly added in a certain amount to skincare products for the face and body, as well as hair care and styling products.
Main Benefits of Murumuru Butter for Hair and Skin:
– It has powerful moisturizing properties and prevents skin from drying out and "skin cracking";
– It is easily absorbed, leaving no greasy residue and does not clog pores;
– It strengthens the skin barrier, protecting it from harmful external factors and moisture loss;
– It helps reduce the visibility of fine lines and wrinkles, smoothing the skin;
– It softens dry and rough skin;
– It is highly effective for the care of dry skin and suitable for sensitive facial and body skin;
– It smooths, hydrates, and soothes "rebellious" hair;
– It is suitable for all hair types and conditions, especially for dry, dyed, damaged, and curly hair;
– It adds extra shine to the hair;
– It reduces hair frizz and curliness.
Murumuru Butter for Hair Care
Murumuru butter and oil are becoming more and more popular due to their ability to improve health, quality, and hair look. These natural ingredients are gentle on the skin and hair, which increases their applicability. They are commonly used in the creation of hair masks, conditioners, and other treatments. Murumuru butter has the ability to penetrate deeper into the hair shaft, providing deep nourishment, hydration, and smoothness, resulting in added shine and softness. This ingredient is excellent for dyed, dry, and damaged hair due to its strong hydrating properties. It also facilitates detangling and gives the hair a radiant look.
All products from the Brazilian brand EVAN CARE available in our range are enriched with murumuru butter. For the care of blonde dyed hair and neutralizing unwanted yellow tones, try:
– EVAN CARE Parfait Pure Care purple shampoo for hair and
– EVAN CARE Parfait Pure Care purple hair mask.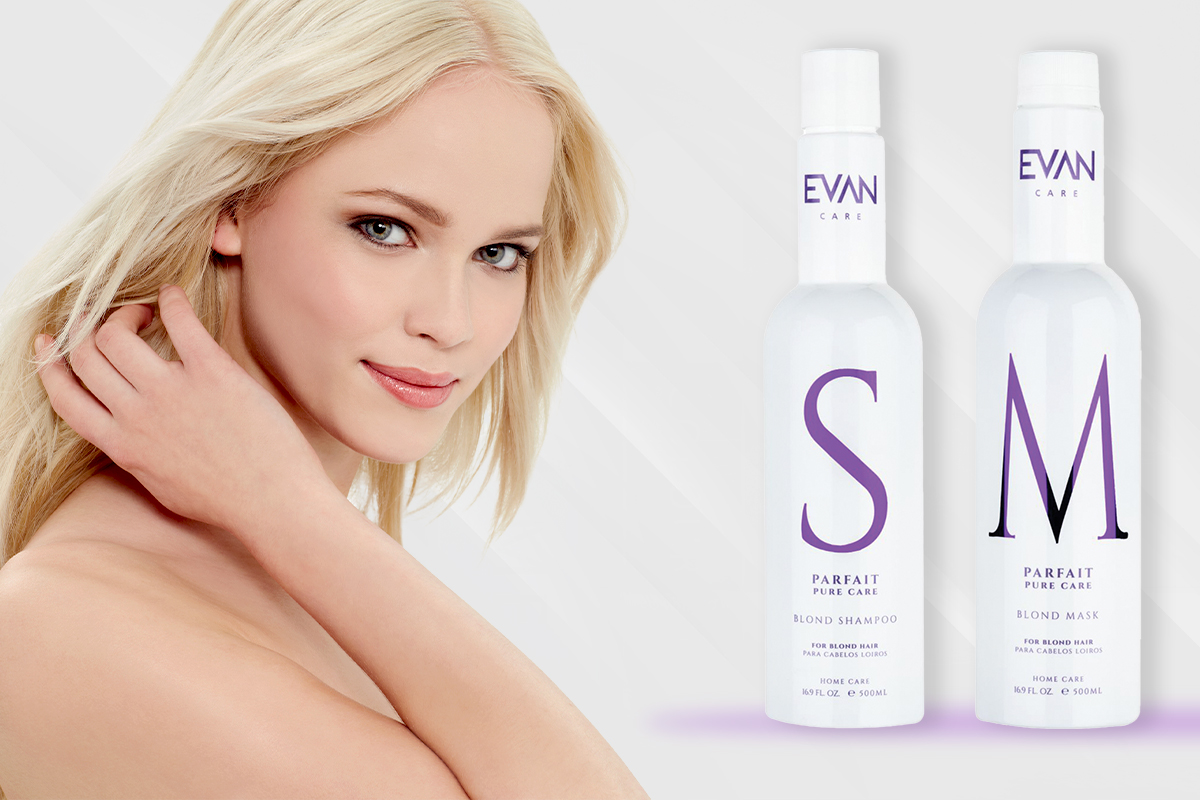 These products are carefully formulated for blondes, considering the difficulty of achieving the desired light blonde shade while maintaining the softness and shine of the hair. They contain a purple pigment that works on unwanted yellow and orange tones in dyed hair, reducing their intensity and giving them a cool, silvery hue. They are enriched with a combination of coconut oil, shea butter, and murumuru butter. These ingredients are rich in lauric acid, which penetrates deep into the hair, supplying it with essential moisture that remains within the hair shaft. The result is smooth, shiny, and elastic hair that is easy to comb and style, without frizz. Thanks to deep hair renewal and cuticle smoothing properties, the hair becomes soft and touchable, with added shine.
Hair Strengthening and Repair Set
Considering that murumuru butter has the ability to smooth hair, reduce frizz, and straighten curly hair, this ingredient is also found in treatments created for that purpose.
The EVAN CARE Coffee Gold Keratin Hair Recovery and Strengthening Set consists of three products: shampoo, treatment, and hair mask. They provide the best professional results when used in combination with consecutive steps. They deeply hydrate, strengthen, and repair chemically treated and damaged hair, restoring its shine and softness. The shampoo is used as the first step in the treatment, deeply cleansing the hair and preparing it for the application of the treatment. The treatment, enriched with keratin, coconut oil, argan oil, and murumuru butter, penetrates deep into the hair strands, renewing them from the inside out. The mask from this set also works to recover damaged and chemically treated hair. Deeply restoring it and giving it a radiant and healthy appearance.
Murumuru Butter – Future of the Cosmetic Industry
Chemists, pharmacists, technologists, and cosmetic experts are constantly searching for new solutions and improved formulas for skincare products. Considering the immense popularity of natural cosmetics and ingredients of vegan and organic origin, we are confident that murumuru butter will be one of the highly sought-after ingredients in the future and readily available for purchase in the form of pure, unrefined butter. It might even challenge the renowned shea butter for the title of the most potent, 100% natural hydrating ingredient with multiple uses and applications in hair and skincare treatments.
Would you be willing to try murumuru butter for skin and hair care? Share your impressions of this exotic Brazilian ingredient with us.