If you follow the latest trends in the world of cosmetics and take care of your appearance, you must have heard of derma rollers! Thanks to the Internet and social media, information on their efficiency expand rapidly. Let`s talk about them more closely. This beautiful little skin doohickey can really do miraculous things to our skin!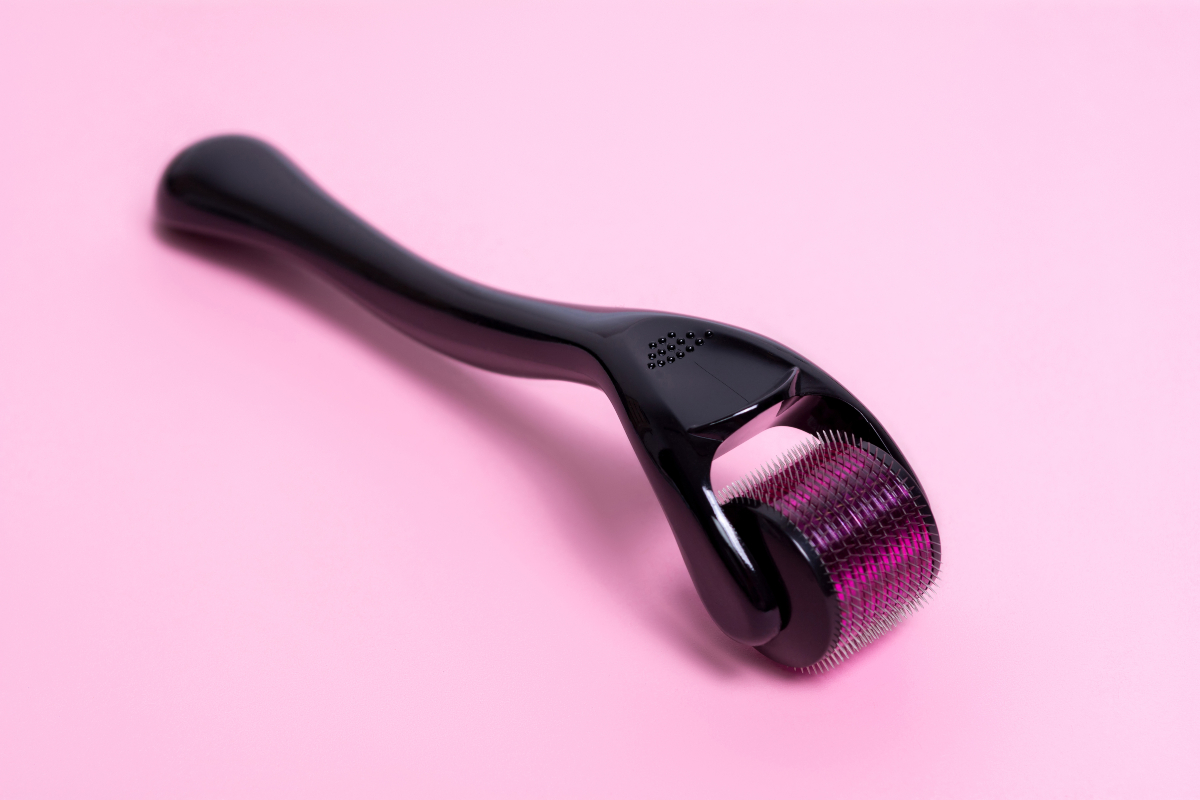 Derma roller is a product talked over a lot lately. It became an inevitable tool in many beauty parlors and is increasingly frequent at home self-care rituals. If you are not sure how, and would like to be certain yourself in its effectiveness, read the text all the way through.
To start with, we are putting forward the most important benefits of a regular derma rolling:
Radiant complexion and facial rejuvenation,

Slowing down the premature skin aging process,

Tighter and more elastic skin,

Pore reduction,

Diminishing wrinkles, fine lines and skin discoloration,

Less visible hyperpigmentation traces,

Clearly reduced stretch marks and cellulite.
What Is a Derma Roller
Derma roller is a small handheld cosmetic tool containing hundreds of metal needles that go deeper into skin layers and create punctures which allows better absorption of cosmetic products that remain on the surface of the skin. It is used for face and body treatments to enhance general appearance and health of the skin. Although a derma roller popped up as a revolutionary product intended for aesthetic treatments in beauty parlors, it became easily accessible to everyone due to small dimensions and ergonomic design. Derma rolling treatment is similar to mesotherapy technique with needles, but it is less invasive and, unlike mesotherapy, can be applied independently in home conditions. If used properly, with adequate cosmetic products, it is possible to reach equally efficient results such as after mesotherapy treatment.
How and how often you may use these little tools, find out below.
Derma Roller for Home Use
Microneedling Derma Roller System and Its Application at Home
Prior to making a decision about derma roller and its application at home, there are a few things you should know before you use it.
First and foremost, do not share the tool with others.

One derma roller must not be used by two persons.

Otherwise, you and the people you are sharing the derma roller with, can be exposed to a risk of infection, irritations which might create serious consequences for appearance and skin health, including the entire organism.

Secondly,

derma roller has to be disinfected (the most recommended is alcohol 70 %) prior to and after every application.

 The product should be dipped into alcohol and left for several minutes before it is dried and placed on a clean paper towel without wiping it out.

Thirdly, a special attention should be paid to the optimal way of storing the product. Keep the derma roller in the original package or a clean and dry plastic box.
How to Use It Yourself
The treatment itself is not painful if it is applied correctly. As a side effect, you may feel mild discomfort or tingling which goes away upon completion of the treatment. After the application is over, face and other treated areas remain slightly red. This is a common reaction due to the fact the treatment consists of micro stabs on the skin which stimulate circulation. Therefore, it is recommended the treatment is performed in the evening, prior to going to bed, so the skin is regenerated and recovered during the night.
After the whole procedure is completed, apply a soothing and moisturizing face / body cream. The results will be visible after the first application. In the morning, after the redness recedes, the skin remains elastic, radiant and soft to touch. It is advised not to use makeup 12 hours after the derma roller is applied.
Why Does the Needle Length Matter
As we have already mentioned, derma roller is covered in miniature, sharp needles that are piercing the surface of skin by rolling the tool over the desired areas. Needles are inserted beneath the surface layer initiating natural processes of restoring skin cells. It also stimulates collagen production and improves poor circulation. Increased collagen production is a part of a completely natural reaction upon which defense skin mechanisms are triggered. Due to this treatment, nourishing ingredients of creams and serums are better and faster absorbed in the skin. Accordingly, the products that are used immediately after the derma roller treatment assure better results.
At what depth active components will penetrate the skin, and how fast the process of cell regeneration will be initiated, depends on the needle length. Nevertheless, it does not instantly imply the use of derma roller whose needle length is greater than 0,5 mm. In case the treatment is performed by skilled experts, the needle length would become even bigger. If your skin is extremely sensitive, it is recommended to use the needle kit whose length is 0,25 mm. For treatments of areas where the skin is thicker, such as thighs or gluteus, the application of the derma roller with needle length of 1,5 mm is advisable.
How to Choose the Adequate Needle Length
Blush derma roller with needle length of 0,25 mm creates micro channels in the uppermost skin layer and micro wounds that start the collagen formation. After its use, the absorption of nutrients and active elements from skincare products is increased by 40 per cent. This derma roller is recommended for sensitive areas such as face, neck and cleavage treatments  intended for delicate skin. It efficiently reduces enlarged pores, rejuvenates skin and minimizes hyperpigmentation traces making your skin glow.
The skin which is not too thin and sensitive you may use Blush derma roller for all skin types with needle length of 0,5 mm. It also creates micro wounds on the skin, at a slightly deeper level, so the application effects are more intensive and more visible. Besides it encourages the absorption of nutrients from skincare products, this tool is also used for smoothing imperfections and fine lines, reducing hyperpigmentation traces and acne scars, as well as pore shrinking.
 Blush derma roller with needle length of 1,5-2,5 mm is used for body treatments and soothing deep scars. It penetrates deeper in the skin stimulating collagen production and intensive skin regeneration. This product is known as a derma roller for stretch marks. Correct application in conjunction with appropriate cosmetics, gives excellent results in treatments of eliminating cellulite, fat deposits and stretch marks on abdomen, thighs and gluteus. It tightens the skin making it more elastic and gentle to touch.
How to Use a Derma Roller
A derma roller can be used individually or combined with skincare cosmetic products prior to and after the treatment. A general recommendation is to follow this schedule: on the first month a derma roller can be used once a week, on the second month it can be applied once in two weeks, and afterwards once a month. Dermatologists recommend replacing the tool with a new one after six months of use.
The derma roller usage itself is rather simple and it takes place in three phases:
1. Skin Preparation
It is preferable to do skin or body peeling of the area to be dermarolled one or two days before the treatment itself. Before the beginning of the treatment, it is necessary to disinfect the tool and cleanse the skin thoroughly. It should be kept in mind not to use cleansing products which are oil based, so they could not clog the pores.
We have come up with a fantastic proposal and that is Quret Egg Bubble foam! It is a water based product intended for deep face cleansing enriched with natural extracts.
2. Right Application
Drag the derma roller in different directions 3-10 times over the desired areas of face, neck, cleavage or body. It is rather important not to roll over the same area more than 10 times applying a gentle amount of pressure paying attention not to overdo it. How hard the pressure pattern will be, depends on individual needs of the client and can be adapted. To be more precise, it depends on what your skin looks like, how much delicate it is, and what type it is. Basically, dermarolling should not be aggressive nor painful.
3. Additional Care
After performing the treatment, apply the appropriate cream, serum or sheet mask so the cells are well nourished. Thus, irritated skin will be soothed and boosted by ingredient absorption whilst the face redness is calmed down quickly.
Our recommendation is  Quret Skin Barrier Cica Face Serum which hydrates and soothes delicate skin. Thanks to high concentration of centella, it improves the collagen synthesis and skin elasticity.
If you use the derma roller as anti-cellulite or a treatment for minimizing of stretch marks, it would be perfect to apply an anti-cellulite cream on treated areas after the rolling process is over.
Our proposal is anti-cellulite Massage Cream with Caffeine Revuele Slim&Detox which maximizes skin elasticity helping dissolution of accumulated fat in the subcutaneous layers thus eliminating a texture and appearance of "peau d'orange" or orange-peel skin.
Finally, the derma roller has to be rinsed with water and disinfected with alcohol. When it dries, it should be kept in the storage case until the next treatment.
Why shouldn't you enhance what you already have? Let your face and body empower you. Elevate your beauty!