If you have dry and damaged hair, there are several effective ways to restore its vitality, elasticity and shine. It is time to try an appropriate hair recovery treatment. This time, we are presenting PLEX treatment products for salon and home use. They have impressed not only hairstylists, but also many users of professional services.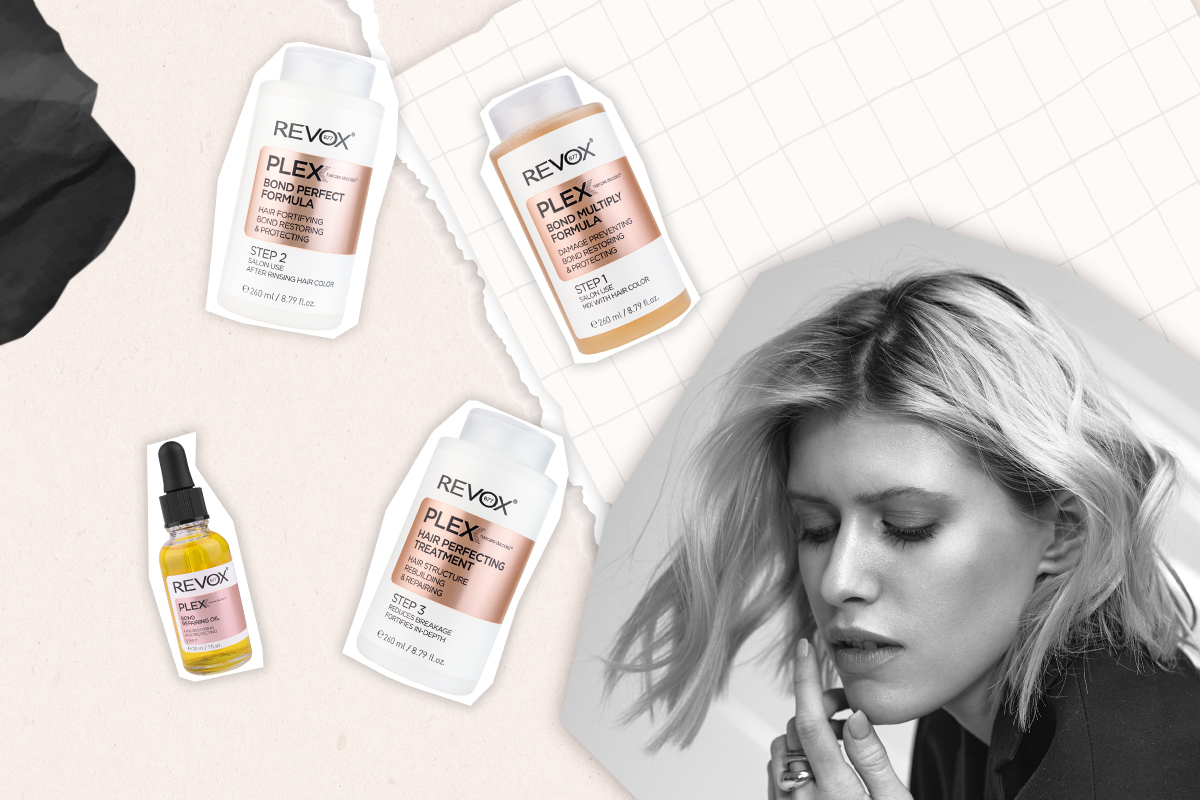 Before we present the PLEX Hair Recovery Treatment in detail, let us remind ourselves of the main causes of hair damage. These are the most common reasons why hair becomes dry, dehydrated, rough, thin and brittle:
frequent colouring (bleaching, highlighting, etc.);
frequent perm application, permanent hair straightening and other chemical treatments;
inadequate use of hair styling appliances (flat iron, curling iron, etc.);
exposure to harmful external factors (UV radiation, wind, harsh climate, etc.);
poor diet lacking in proteins, vitamins and antioxidants.
Most of these damages can be avoided by improving our diet and protecting our hair from potentially harmful factors. That is where an additional advantage of the PLEX Hair Recovery Treatment comes in – it can also be used as a preventive measure against these damages.
What Is the PLEX Hair Recovery Treatment and Who Is It for
Since its introduction, PLEX has made a complete revolution in hair care. It is a unique and innovative formula that makes up the foundation of products for restoring, protecting and maintaining hair health. It works by connecting and restoring broken and damaged disulfide bonds in the hair structure, thereby regenerating damaged hair and giving it softness, shine and elasticity. Moreover, it is also used for strengthening, protection and prevention of hair breakage.
The primary purpose of PLEX was for professional use and in salon treatments. Due to effective results and rapid popularity, many cosmetic companies began using this cutting-edge formula in personal care products. Today, shampoos, conditioners, oils, and other regular hair care products enriched with PLEX are available on the market. Although it is a group of non-identical products, they are often referred to collectively as the PLEX Hair Recovery Treatment.
These products are intended for anyone who wants:
fast and intense hair recovery;
prevention and protection from chemical, thermal, and mechanical damage.
Although they can be combined with different products and applied before, during, and after different treatments, their most well-known use is in hair colouring processes. With PLEX treatments, hair dyeing and intense lightening is possible without damages and breakages. That is why many hairdressers use these products in their salons to ensure their clients are completely satisfied not only with the colour, but also with the preservation of healthy, shiny, and soft hair after dyeing.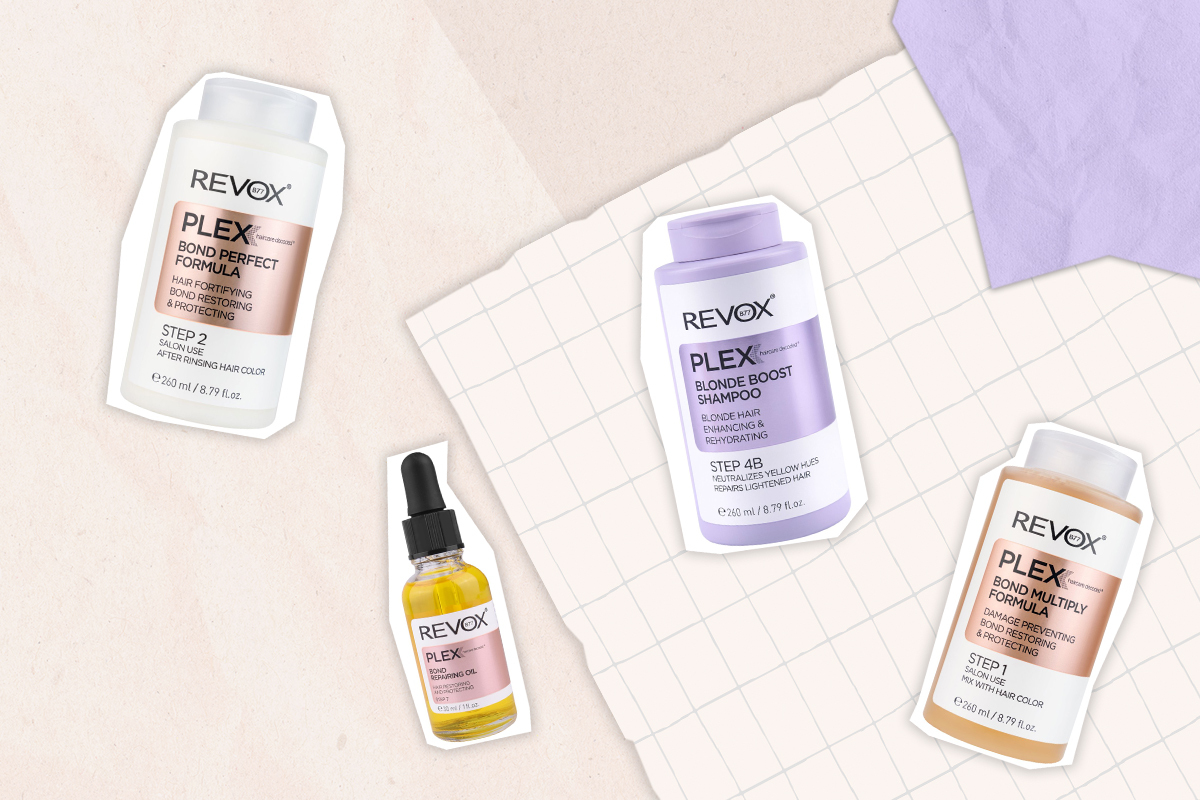 Revox B77 PLEX Solution for Damaged Hair
The Revox B77 PLEX Collection consists of seven types of products used in different stages of hair care, beautification and styling. All products are divided into two groups (for salon and home use) by application steps, and the best results are reached in symbiosis. Revox B77 PLEX products can be used on all types, colours, and hair lengths. If using all seven steps, long-lasting results are achieved in the field of hair renewal and preservation.
Professional Hair Recovery Treatment: Step 1 and Step 2
Revox B77 PLEX products: Step 1 and Step 2 are intended for professional, salon use. The products are vegan and not tested on animals.
Revox B77 Step 1 PLEX is used for hair protection and prevention of damages during various chemical treatments. It quickly makes hair stronger and more resistant to breakages, and does not have any unwanted effects on colour. This concentrated formula can be mixed with dyes, correctors, bleaches, hydrogen peroxide, toners, and other products used for colouring and other chemical treatments. With the use of PLEX during dyeing, hair becomes silky and shiny, and colour lasts longer and is more intense. For the most effective hair recovery treatment, it is recommended to apply "Step 2" before styling.
Revox B77 Step 2 PLEX is an intense formula that deeply repairs and strengthens damaged hair, preventing new damages. It is used after "Step 1" to enhance its effects and prepare hair for styling. It can be used alone, regardless of whether any treatments were done immediately before. It is applied to wet hair for additional shine and heat protection when using hair styling equipment. After application, hair becomes smooth, flexible, and easy to style.
These two products are essential for professional hairstylists who care about their clients' satisfaction and the health of their hair. They can be purchased as stand-alone products, and are now available as a set in our offer.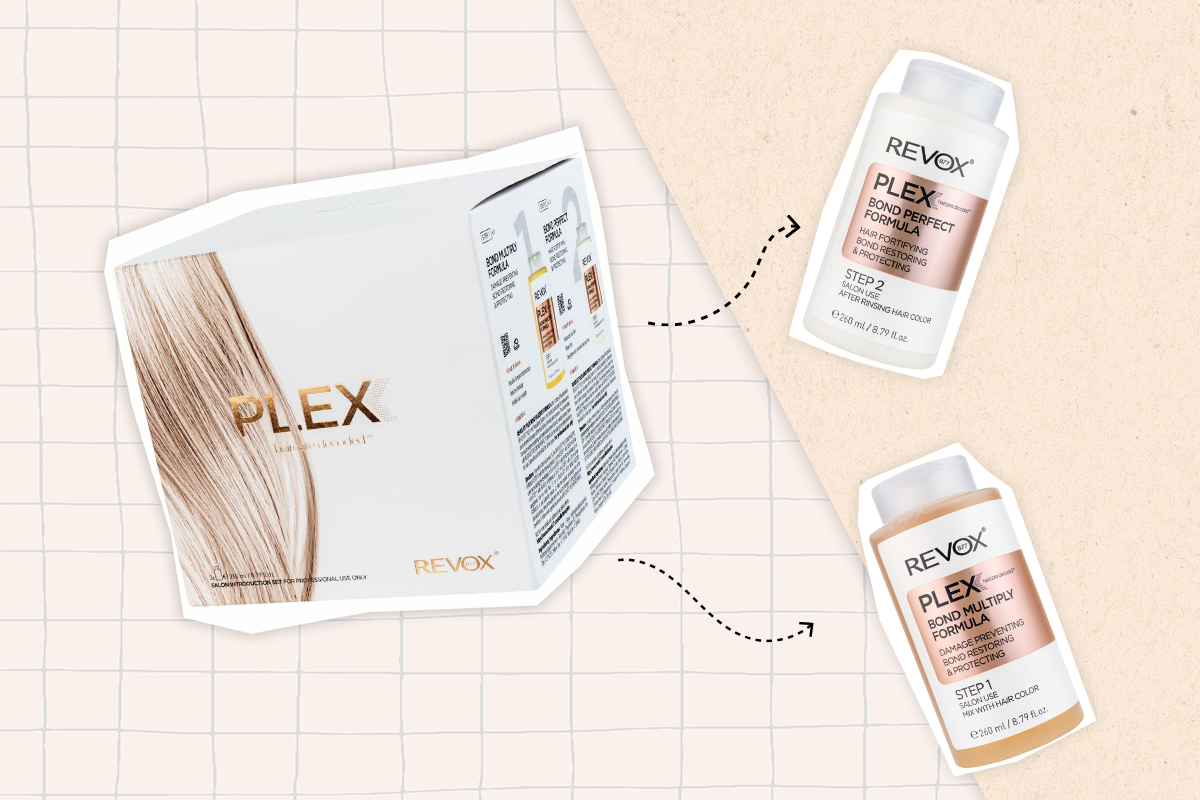 PLEX Hair Recovery Treatment for Home Use
To enhance the effectiveness of the treatment, hairstylists recommend their clients to use PLEX formula shampoos, conditioners, creams, oils, and other hair care products at home. The following products are used for this purpose:
All products can be used independently or in combination (step by step), in order to achieve the desired effect as quickly as possible. They are suitable for use in hair salons as part of professional care, and may also be used in regular home care rituals. They are available for purchase in individual packages or as a set.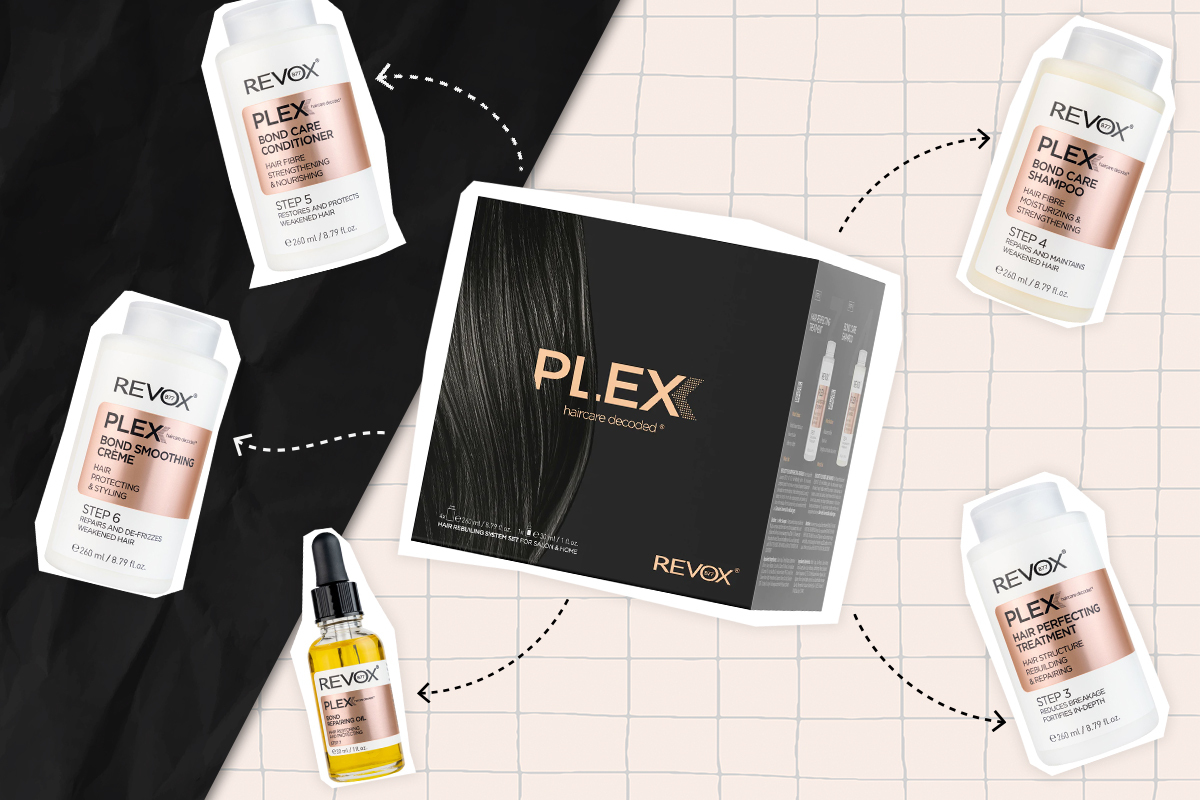 Blonde Coloured Hair Care
Taking into account that maintaining and achieving the desired blonde shade is extremely demanding, the creators of this collection have made a special product for blondes. This is the Anti-Yellow Revox B77 Step 4B PLEX Hair Shampoo which can be used in salons and at home. It is designed to neutralize unwanted yellow, orange, and copper tones on blonde, coloured hair. In addition to effectively cleaning the hair and scalp, thanks to the PLEX formula, it allows maintaining optimal balance of hydration and protein in the hair. It also strengthens the hair, makes it smooth and shiny. Another advantage of this product is that it does not contain sulfates. If you have not used anti-yellow shampoos before, read the text "Purple Shampoo – the Secret of Seductive Blondes" for information on how and how often to use them.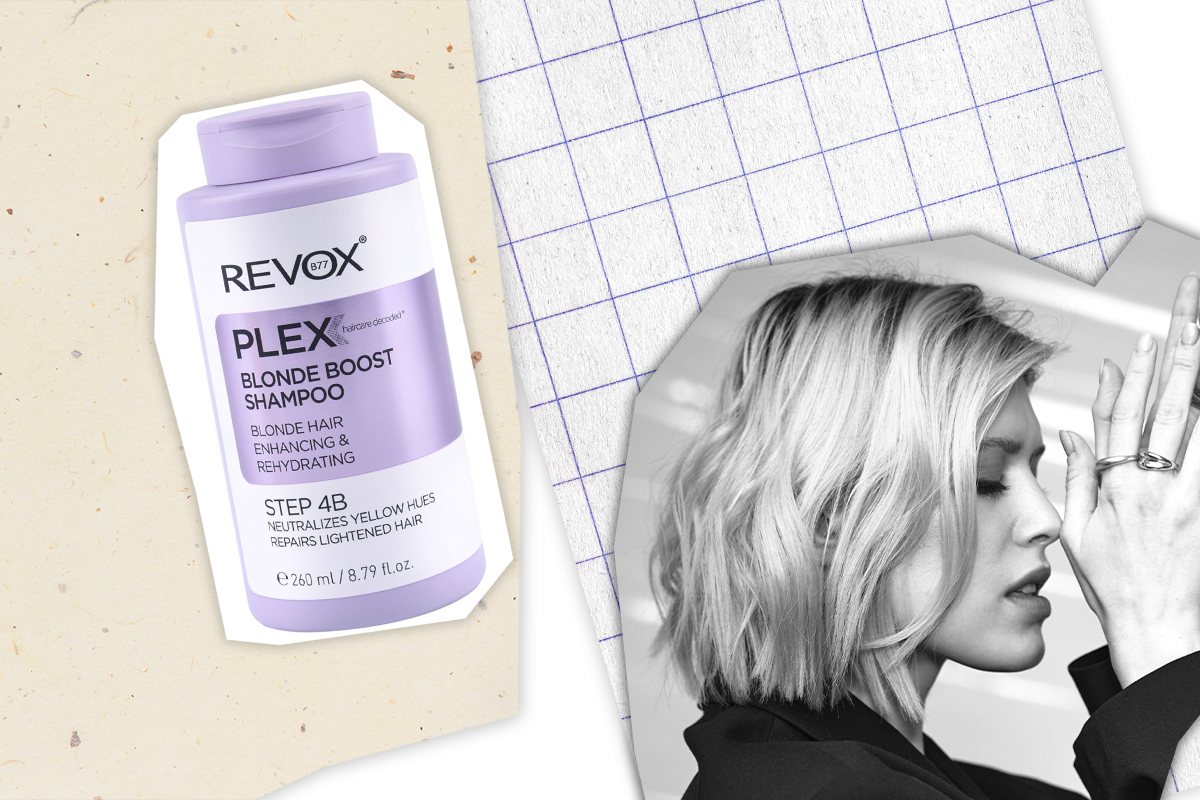 What are your favourite hair treatments? Have you ever used PLEX products in the salon or at home? Write your experiences and tips in the comments that can help damaged hair become strong, shiny, and healthy.
If you liked this text, feel free to share it with friends and anyone who can benefit from this information.